WHAT IS NCLEX?
By Barron Analo Ambune
The NCLEX, or the National Council Licensure Examination, is a standardized examination that nurses in the United States must pass in order to obtain their nursing license. It is developed and administered by the National Council of State Boards of Nursing (NCSBN) and is used to determine whether a candidate has the knowledge, skills, and abilities required to safely and effectively practice as an entry-level nurse.
CLASSIFICATION
There are two main types of NCLEX examinations:
NCLEX-RN: This exam is for those seeking to become registered nurses (RNs). RNs typically have a broader scope of practice and may work in various healthcare settings.
NCLEX-PN: This exam is for those seeking to become licensed practical nurses (LPNs) or licensed vocational nurses (LVNs), depending on the state. LPNs/LVNs generally have a more limited scope of practice than RNs.
The NCLEX exams are computerized adaptive tests, meaning the difficulty of the questions adjusts based on the candidate's performance. The exam is designed to assess the nurse's knowledge and ability to make safe and effective clinical decisions across various patient scenarios. Passing the NCLEX is a critical step for individuals pursuing a career in nursing, as it is a requirement to obtain a nursing license and practice as a nurse in the United States.
1. Purpose and Importance:
The primary purpose of the NCLEX is to ensure that individuals who want to practice nursing in the United States have the necessary knowledge and skills to provide safe and competent patient care. Passing the NCLEX is a critical requirement for obtaining a nursing license, which is necessary for legal practice as a nurse.
2. Exam administration:
The NCLEX is administered using a computerized adaptive testing format. This means that as the test-taker progresses through the exam, the computer adapts the difficulty level of the questions based on their responses. If a test-taker answers a question correctly, the next question might be more challenging, whereas if they answer incorrectly, the next question might be easier. This adaptive approach allows the exam to efficiently and accurately assess the test-takers' abilities.
3. Question Types
The NCLEX consists of multiple-choice questions (MCQs) as well as alternative item formats, such as select-all-that-apply (SATA), ordered response, and hot spot questions. Some questions may require the test-taker to prioritize actions, categorize items, or identify correct components within an image or scenario.
4. Test Content:
The exam content is based on a variety of nursing concepts, including but not limited to:
A. Safe and effective care environment: Legal and ethical issues, management of care, safety and infection control.
B. Health promotion and maintenance: Growth and development across the lifespan, disease prevention.
C. Psychosocial Integrity: Mental health concepts, coping mechanisms, therapeutic communication.
D. Physiological Integrity: Basic care and comfort, pharmacological therapies, reduction of risk potential, physiological adaptation.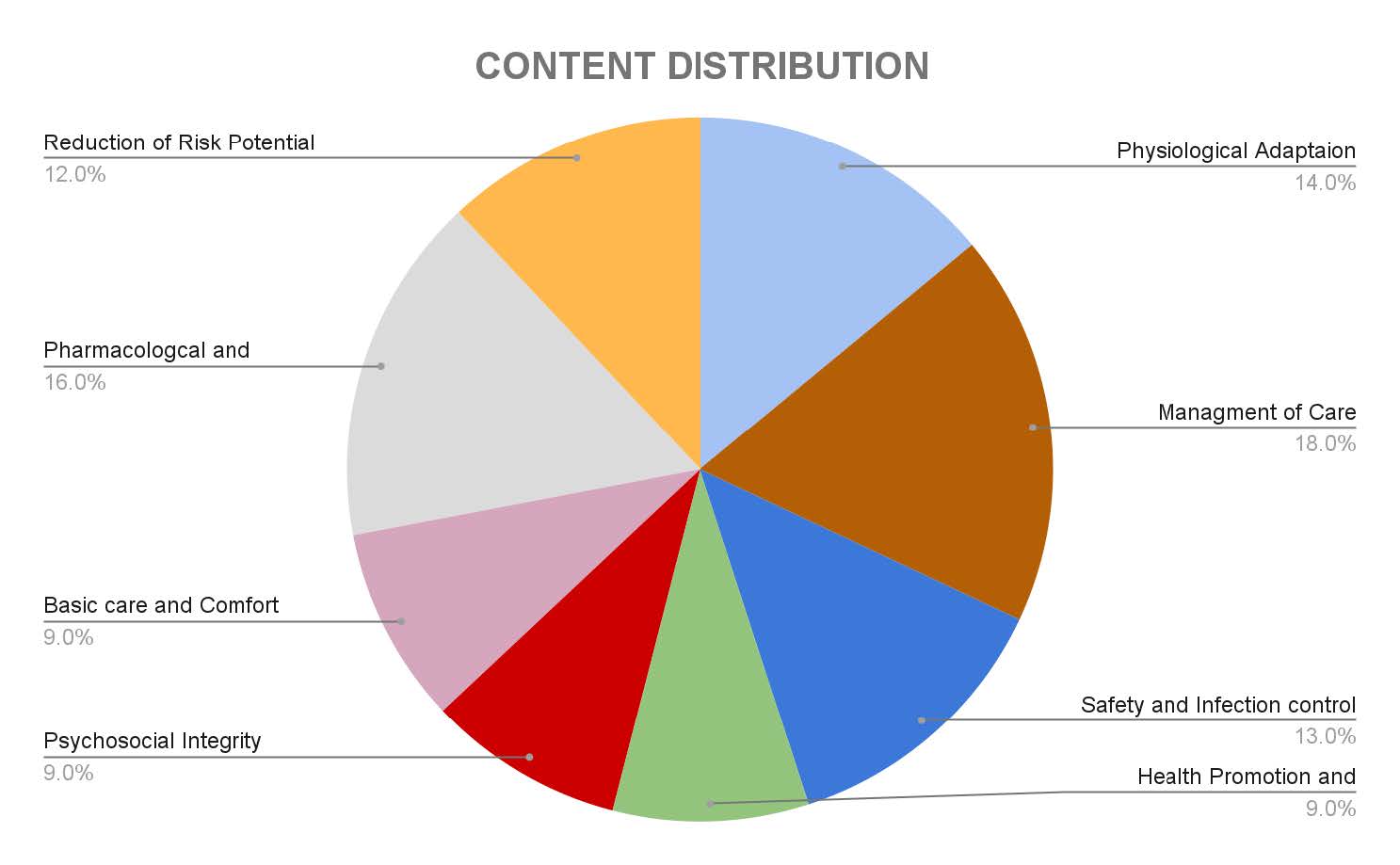 5. Passing Standard:
The passing standard for the NCLEX is determined by the NCSBN through a thorough analysis of the exam content and candidate performance. The exam is not graded on a percentage scale; instead, it's determined based on the candidate's ability to consistently demonstrate competency.
6. Exam Preparation:
Due to the importance of the NCLEX, many nursing graduates dedicate significant time and effort to prepare for the exam. This often involves using review materials, practice questions, online resources, and sometimes attending preparatory courses.
7. Licensure by Endorsement:
Nurses who have passed the NCLEX in one state may be eligible to obtain a nursing license in another state through a process called licensure by endorsement. This allows nurses to practice in multiple states without having to retake the NCLEX. Passing the NCLEX is a significant milestone for anyone pursuing a career in nursing in the United States. It signifies that the individual has met the minimum competency standards required to provide safe and effective nursing care to patients.
Ref
1. Silvestri, L. A., Faan, L. a. S. P. R., & Silvestri, A. E. (2022). Saunders Comprehensive Review for the NCLEX-RN® examination. Saunders.
2. Test plans | NCLEX. (n.d.-b). NCLEX. https://www.nclex.com/test-plans.page
More Posts You May Find Interesting